Reminder of why we rock
The best gift you can make to yourself right now is starting fresh with a new intelligible method, that hopefully will make your trading easier.
It takes 5 years for the average trader to get profitable
Most are getting wrecked after 3 months and stop trading forever.
Our goal during your 2 weeks trial is to help you ramping-up and getting ready within those 2 weeks.
Many of our subscribers financed their subscription with their gains during the trial period
Are all steps below mandatory
✔️ YES
Log yourself in permanently
The forum website is based on Shopify and not letting the users stay logged permanently.
But worry no more friend, we have an alternative
For doing so, please follow this quick tutorial
How to ask us questions the right way
Help us to help you out by asking detailed questions
Terminology
We often use abbreviations because we're.... lazy.
We logged the most-common used on this page
Invite-Only indicators from Daveatt
Your TradingView indicators are available in your Invite-only list.
The author (as per the image below) is me Daveatt

Automating your trading
Q: Do we recommend automating your trading right away during your trial?
A: It's like asking us if you can run before knowing how to walk literally
Q: Do you how many of our customers started trading from the end of 2017 with cryptocurrencies and are thinking trading bots is the way to go?
A: I would say 9 new subscribers out of 10
Because it sounds easier and more appealing.
Printing money out of thin air like the FED while being at the beach is the life we're all dreaming of. If money was easy earnt, we'll be wealthy - just think about it.
There is a lot of totally false education out there.
I've made trading bots my whole career for retail and professional traders. I probably made more bots than 3 commas, ProfitView, Cryptohopper, ... combined altogether.
I'm not THE expert by any means - there are some concepts though that I'd like you to keep in mind and that I explained below
✔️ We strongly recommend you to read our take on 100% automated trading
✔️ We also made some useful documentation in case you want to use third-party softwares like TradingConnector, ProfiView ...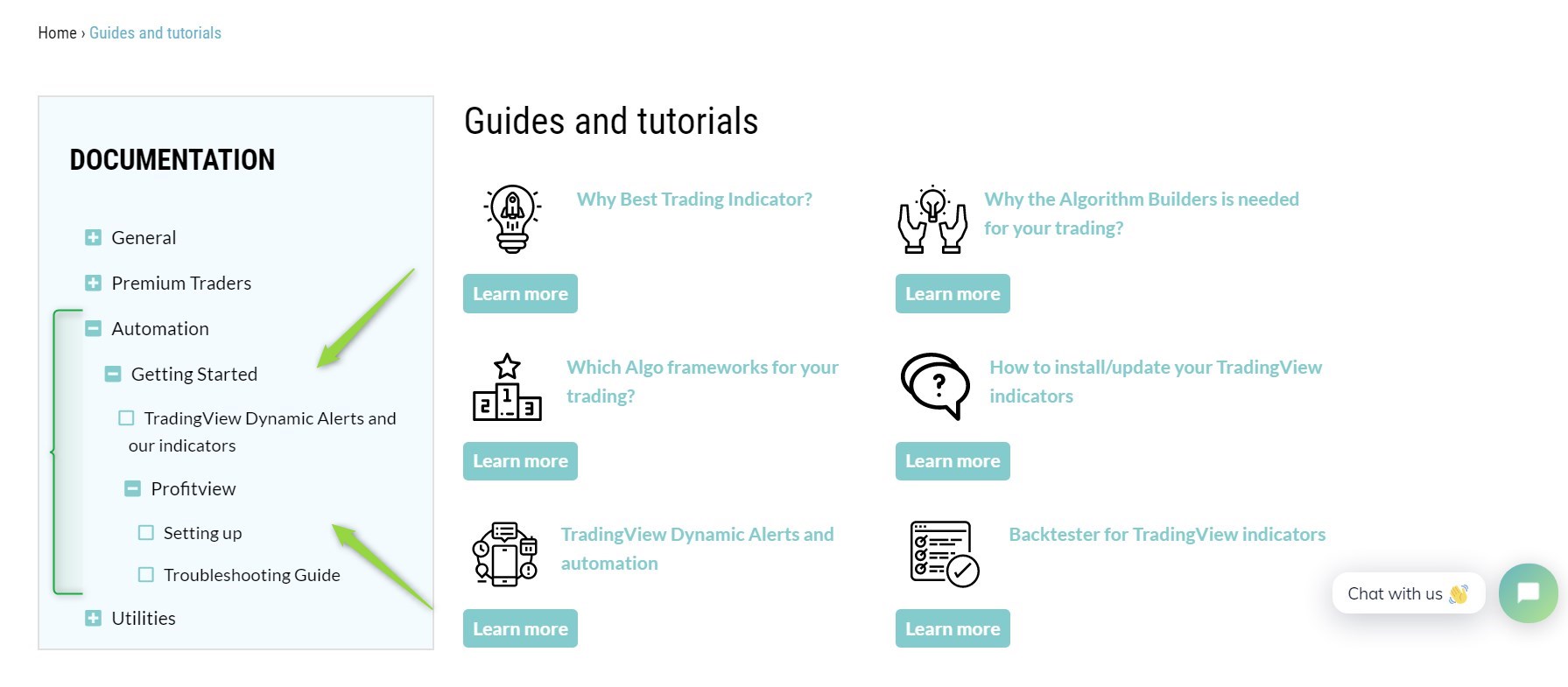 Set your SMART goals
✔️ I want you to edit your description from your profile and to write down your goals
This allows avoiding a lot of losing days due to:
extreme greed and overtrading
extreme stupidity and losing because without a proper goal, how do we know when to stop for the day?
and becoming accountable to yourself and the community for trading based on signals and not based on how you feel
I wrote mine this way.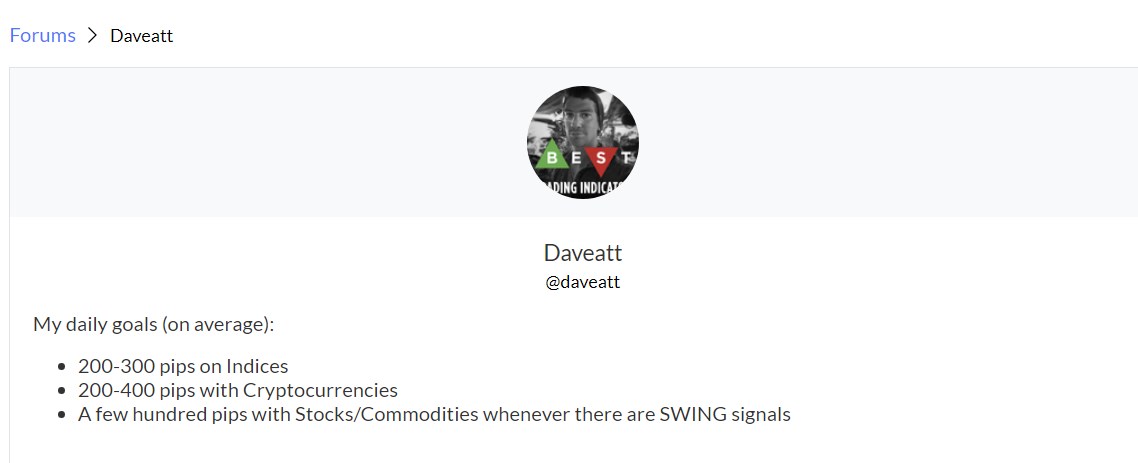 💎 I'll keep mentioning trading goals in the trading method tutorials.
I'll refer to yours whenever you'll ask me questions about the method.
Most traders lose because they trade blind, without goals, based on feelings.
💎 Please help me to help you by setting SMART goals on your profile description.
Subscribe to the forum
Subscribing is strongly recommended as I make all the updates and announcements there.
✔️ Check Enable Notifications
The subscribers get updated by email
✔️ Go here and scroll down a bit
✔️ Subscribe to at least those 4 (but we recommend subscribing to all forums)
Official announcements
Trading Method
Trading Method Q&A
Frequently Asked Questions
✔️ Click on the green SAVE button
✔️ Please don't forget to check your SPAM folder sporadically at least once a week :)
We got a good reputation with most of the main email providers now.
But sometimes the forum email notification ends up in the SPAM folder.
Add the Algorithm builder for that asset class and timeframe
For each asset class and timeframe, you'll have to create 1 chart using 1 of our framework
✔️ Create 1 chart with the Algo Builder Crypto on a 5-minutes timeframe
✔️ Create 1 chart with the Algo Builder Indices to be used on both 1-minute and 5-minutes chart
✔️ Create 1 chart with the Algo Builder Universal on a 15-minutes timeframe
✔️ Create 1 chart with the Algo Builder Stocks on a 30-minutes timeframe
The Algo supports and resistances script
💎Contains the Take Profit zones required for our you to make money and to know when to take profit
You must add that script for each chart you created at the step just before
Is it safe to use your own indicators on top of our frameworks?
The answer to that one is easy.
✔️ It's generally a NO
You don't need anything else to trade our frameworks, we made them complete.
And so that you guys can focus on trading the signals only
Not because we have the BEST system in the world, but because mixing two unrelated models very rarely works.
Talking from experience here.
This sentence means we and all the great successful traders we know lost trying this approach
Scenario: you'll see a bearish signal on your indicator in contradiction of our green triangle, hence:
you'll doubt
either won't take the trade
trade the trade with a terrible entry
We're asking you to let us focus on the algorithm optimizations and only to keep your focus on the framework signals.
However, all suggestions are 100% welcomed and reviewed.
Premium subscribers can ask us and we'll reply whether we'll include their ideas in the engine or not + and giving a reason why we think it's an idea that we'll keep or discard
Should we backtest your signals?
✔️ Short answer: Not needed
✔️ Better answer: (a 10 to 30 minutes process)
apply the indicators on your chart
scroll left and analyze the signals
while doing it, read the trading method just below to understand why our signals are great and how you could benefit from them
Read the trading method three times
Yes, 3 times and ALL those articles with the ramp-up tag in the URL
Link: best-trading-indicator.com/community/bti/tags?query=ramp-up
Most of the questions you have are logged-in there and it won't take you more than a few hours to read everything anyway.
I'm talking about a few hours of pain rewarded by a life of glory :)
✔️ Ramp-up program for new subscribers
Read the pullback trading method three times
✔️ The pullback is so crucial for our trading method that I have to ask any new subscriber to read the Pullback tutorial 3 times in a row as well
✔️ On your charts, the orange EMA pullback is by default adjusted with the recommended value being EMA(20)
Pullback Mode
🔸🔸🔸 You're allowed to use the Pullback Mode from the frameworks only if you've been trading with us for 3+ months and are way profitable (aka you refunded your subscription, made a 2-4X on your trading capital)
I did that feature to please a few customers but I personally don't use it
✔️ I think aiming for a best average pullback will sometimes make you get in the trade too late and cancel out a few winners.

Ramp-up program
At this stage, we expect the new young BEST padawans to have done a few things already
This is not over yet so please hold on just a bit more.
We see trading to be very similar than weight training.
Would you lift 100 kg with barbell curls during your first day of trading or even the first year?
I started small for 6 months before increasing my position sizing bit by bit.
Building your endurance to trading pain and stress takes time and this really functions like a muscle by the way.
All the traders burning steps, trying to get rich too quickly are learning the best lesson the markets could give them.
Unfortunately, by the time they understand what happened (assuming they do), they're out of capital to keep going.
Do yourself a favor and use the BEST ramp-up program that I used to build-up my own endurance and trading muscle.
✔️ And the first step to be one of our BEST traders is to start on a DEMO account for a few days first
Overview of the most common issues
✔️ Overview of the most common issues and their solutions
Chart Scaling and red error issues
✔️ Set your chart scaling - scale
✔️ What to do if the indicator displays a red error message
Trade Manager settings
For custom stop-loss and take-profits, we documented it all in this guide
Alerts Alerts - connection between the alerts and your indicator
An important reminder first.
Created alerts are based on the indicator configuration at the alert creation time.
When an alert is created, TradingView saves the following information with the alert so that it can run independently in the cloud:
The study's code
The study's current Setting/Inputs (including modifications made by the user)
The chart's main symbol and timeframe.
If you want any changes to this information to be reflected in an existing alert's behavior, you will need to either delete the alert and create a new one in the new context or use the following steps to modify the alert.
In less complicated words, let's assume the following timeline
12:00 pm I create a BUY alert
12:05 pm then change the config but don't update my alert
12: 15 pm then I'll get the BUY alert based on the 12:00 pm indicator configuration
Every change in the indicator setting implies you to recreate or update the alerts
Tutorial explaining what to do to update your alerts properly
---
Alerts - Repainting Warning
✔️ TradingView displays a repainting warning when you're creating alerts.
It's coming from our multi timeframes indicators triggering this warning popup
Please ignore it - we guarantee our indicators and alert don't and will never repaint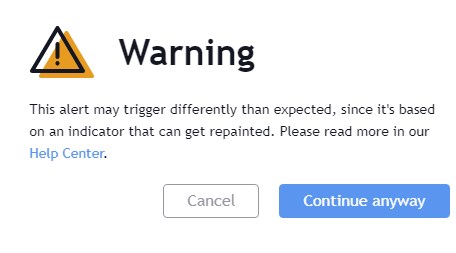 Alerts - Once per bar close
✔️ Create your alerts tutorial
We recommend 3 alerts in total per asset per timeframe per Algorithm builder
In other words, if you're trading BTCUSDT using the Algo Crypto 5-minutes (intraday) and Algo Universal 15-minutes (swing), then you'll have to create the required 6 alerts
✔️ 3 for the Algo Crypto 5-minutes chart
✔️ 3 for the Algo Universal 15-minutes chart
Use the option Once per Bar Close for those 3 below
✔️ 1 for Buy Alert
✔️ 1 for Sell Alert
✔️ and 1 alert for Hard Exit
Alerts - Indices 1 minute specific case
If expert mode is activated
🔔Buy Alert:🔔 and 🔔Sell Alert🔔 will trigger for both triangles and diamonds

🔸Buy Alert🔸 and 🔸Sell Alert🔸 trigger only for diamonds
If expert mode IS NOT activated
🔔Buy Alert🔔 and 🔔Sell Alert🔔 will trigger for both triangles

🔸Buy Alert🔸 and 🔸Sell Alert🔸 won't work as there is no diamond signal
This is a specific case only for the Algo Indices used on a 1-minute chart
✋ You won't need those 2 Hard exits below for manual trading at all
The alert conditions called ❌Hard Exit Long❌ and ❌Hard Exit Short❌ are for third-party automation required a different hard exit condition for a LONG and a SHORT.
Trade Manager Alerts - Once per bar
Those alerts are optional
Use the option Once per Bar for the custom Trade Manager conditions if any
✔️ TP1 HIT
✔️ TP2 HIT
✔️ TP3 HIT
✔️ SL HIT
Organise your alerts received by email
We provide a tutorial for using GMAIL labels
Knowing when not to trade is more important than knowing when to trade
How many times did you lose money as you traded from your smartphone or using 100% magic-pill automated bots or while being tired or sick?
Yes, this is a bad move right here. Explaining in this tutorial what are the common must not be traded events
Knowing when to cut a trade
In short, before any events mentioned in the part just above.
This is basic human thinking.
If in a trade before a moment you're not supposed to trade, cut the damn trade :)
We're reviewing more in-depth the BEST way for doing it
Affiliation 15 percent off
Get better in trading and help your friends out there struggling still.
Help a bro out and get rewarded in the process.
💰 Refer your friend and make 15% off their subscription price whenever they subscribe and confirm their trial.
Many of our subscribers refunded their subscription fees entirely with their referrals already.
💳 Payments are validated by our payment providers (Stripe for card payments/Bitcoin Wallet for BTC payments)