Introduction
We're very active with our trading and .... marketing. Both are time-consuming and require a lot of manual repetitive actions.
And right now it's not possible to connect custom indicators to large TradingView screeners.
TradingView offers native screeners but they're based on very basic indicators and as such are a bit limited to find custom opportunities.
But, what if they could be automatized?
We're going to reveal how Best Trading Indicator screens thousands of alerts, shares automatically the best setups to their subscribers on Discord, and to their prospects on other social media.
TradingView Alerts Limit
TradingView server-side alerts are limited for each account type. As of today (September 23rd, 2020) TradingView offers:

- 1 alert for the FREE account
- 10 alerts for the PRO account
- 30 alerts for the PRO+ account
- 400 alerts for the PREMIUM account
If you didn't subscribe to TradingView yet, let me add you can subscribe via my referral link and get up to $30 OFF your subscription
It's not allowed to cumulate more than 1 TradingView account. Though, TradingView has a tolerance for extra paid accounts used for alerts only.
We recommend creating a TradingView helpdesk Ticket before purchasing an extra TradingView account through.

BTI purchased a few PREMIUM accounts to cover the crypto, stocks, forex, indices, commodities markets across many timeframes.
Youtube video demonstration (8 min)
Alerts Setup
We all agree that setting alerts in bulk in TradingView is nothing less than a pain. We have to edit/create them 1 by 1 and it's very time-consuming.
That's why we developed a NodeJS/Puppeeter script automatizing the creation of alerts for us.
The script simulates user events such as click, selection, etc. We tell it to click here, wait, then do that, type the asset name, timeframe, then click on specific HTML elements.
We're doing that at scale across multiple TradingView chart URLs and assets
The script parses a configuration file logging all the assets/timeframe/URL we want our alerts.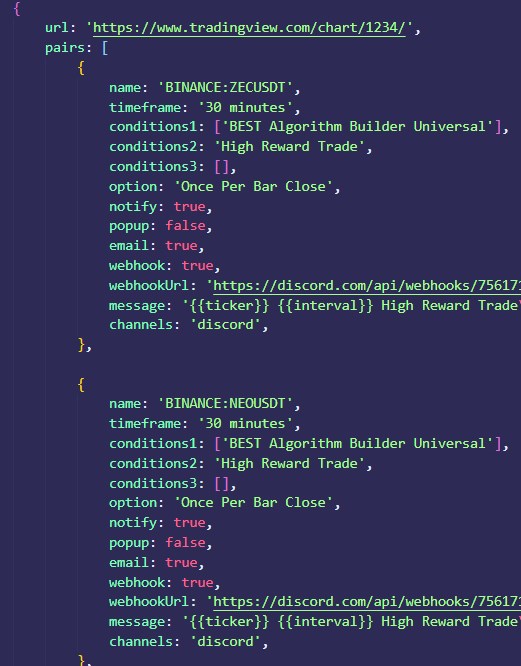 We replicated the TradingView alert interface structure with our JSON alerts for more clarity.
For our subscribers, the alerts are shared in real-time.
For our non-subscribers, we made it possible to share on social medias such as Twitter, Instagram, Telegram, and Discord.

Our tool takes a live Trading chart screenshot giving instant feedback whether the trade setup interesting or not.
Below an example of a 5 minutes alert created on FXCM SPX500 using our Algorithm Builder Indices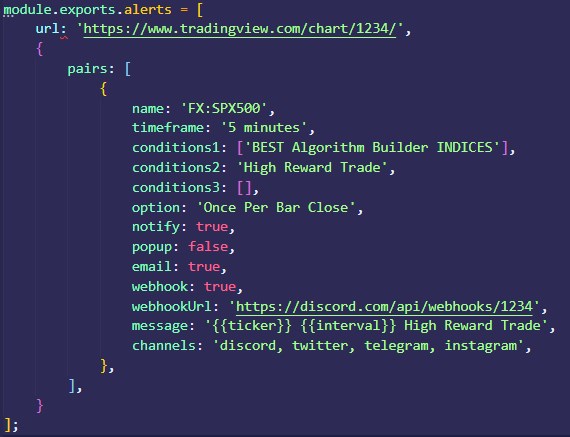 Discord High Reward and Super High Reward alerts
We use this system and the TradingView webhooks to share the most rewarding setups to our VIP-3 and VIP-12 subscribers on Discord.
We created 1 Discord thread per asset class and per opportunity type (high-reward and super high-reward)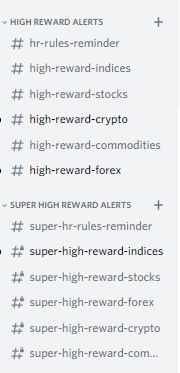 Our VIP 3 and VIP 12 subscribers have also those high and super high-reward signals and alerts available directly on their TradingView.
Gmail Labels
I basically define Gmail labels for filtering emails by category/topic.
This is a nice view for separating within the same mailbox my trading alerts versus the rest.
You can create labels for your:

- TradingView alerts
- Broker alerts
- TradingView/Broker notifications
...
Gmail Cloud HQ extension
We use the Gmail tabs Cloud HQ extension to separate those labels as tabs.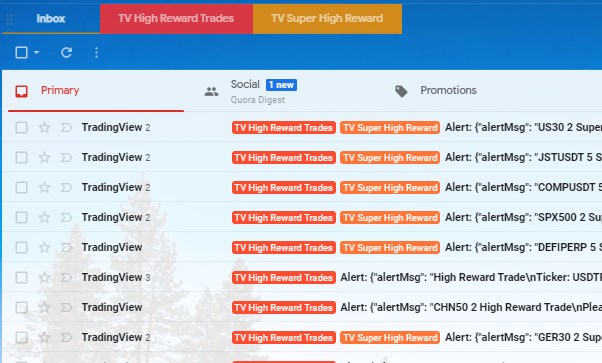 Conclusion
We didn't know it was impossible before so ... we did it.
Automatizing the creation of TradingView alerts, using our Mailbox to filter out the alerts based on keywords, and sending those filtered alerts to our Discord channels for our subscribers.
Our recent Crypto trades shared on Discord and Twitter